$8,000 Tax Credit Information – Federal Housing Tax Credit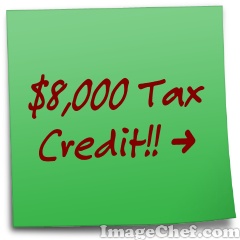 By now, unless you've been living under a rock or just plain out of country, you've heard myriad details about President Obama's "Stimulus Plan".
Home buyers I'm working with in the Portsmouth NH real estate market area have been asking how and when they'll get their $8,000 to help them buy a house.   Clearly all the reports have just muddied the waters for home buyers instead of clearing things up.
For buyers and sellers in the Portsmouth New Hampshire real estate market interested in learning the nuts and bolts of this $8,000 tax credit for home and condo buyers, here are the bullets of the plan:
– for first-time home buyers or those who've not owned a primary residence in the last 3 years;
– for the purchase of primary residences only, and for those purchased from Jan. 1, 2009 through December 31, 2009;
– is an $8,000 TAX CREDIT, not money given to you for your purchase;
– does NOT have to be paid back like 2008's $7,500 tax credit.
The National Association of Home Builders has put together some great questions and answers on the Federal Housing Tax Credit that may help clarify other questions you might have on this tax credit.   Check it out for additional details.
If you'd like to read more information on the Federal Housing Tax Credit, additional provisions can be found here –>  Stimulus Law Provisions.

Are you ready to find that perfect home or condo? Today's environment with great interest rates and lower home purchase prices makes this a fabulous time for most people to think about purchasing real estate.
Send me an email or give me a call, 1-888-349-5678 x 3839, and we can get started talking real estate and find you that perfect home or condo here in the Seacoast areas of NH and southern Maine!
Servicing the New Hampshire towns of Portsmouth, Newcastle,
Rye, North Hampton, Hampton, Stratham, Exeter, Greenland, Newington,
Dover, Durham and surrounding areas, and the Maine towns of Kittery,
Kittery Point, Eliot, South Berwick, York, and surrounding areas.