Portsmouth New Hampshire Homes Activity from 1998 through 2008 – A Look Back
For those who like to keep on top of the pulse of the local Portsmouth real estate market, looking back at the total sales for each of the last ten years will be interesting.
This chart shows the total  number of homes sold in Portsmouth NH during each of the last 10 years.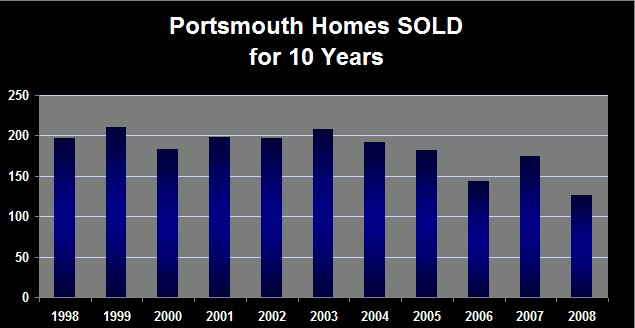 Charts are more visually appealing for many people, and you can see from this chart that the total number of Portsmouth homes sold last year, 2008, is lower than any other year in the past 10 years.
The average sales price during those 10 years varies widely.
1998      197 homes     $181,645
1999      211 homes      $213,247
2000     183 homes     $258,756
2001     196 homes      $278,421
2002     197 homes     $296,840
2003     208 homes     $324,168
2004     192 homes     $387,491
2005     182 homes     $436,140
2006     143 homes     $375,035
2007     175 homes     $369,899
2008     128 homes     $354,976
Price-wise, the average selling price of Portsmouth homes is back to the late 2003 and early 2004 selling prices.  If you see a home today that you love and would like to own, this may just be the perfect time for you to get out there in the market.  Take advantage of today's pricing and  the low interest rates!
Send me an email or give me a call – I'd love to talk to you about the real estate market and your interest in buying or selling here in the Portsmouth NH area!
Servicing the New Hampshire towns of Portsmouth, Newcastle,
Rye, North Hampton, Hampton, Stratham, Exeter, Greenland, Newington,
Dover, Durham and surrounding areas, and the Maine towns of Kittery,
Kittery Point, Eliot, South Berwick, York, and surrounding areas.