Portsmouth New Hampshire Chosen for Top 20 Best Towns In US
For those of us who call Portsmouth NH home, we already know what magazines
and surveys tell the rest of the world – Portsmouth is a GREAT PLACE TO CALL
HOME!!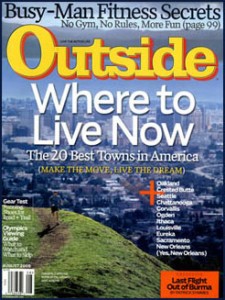 Portsmouth was recently honored with another high accolade, this one being
named to the 'Top 20 Best Towns in America' by Outside Magazine.  This honor was
given based on criteria used to determine the best places in the country that
provide 'the greatest opportunities for living the good life'.
Sited as a 'compact walkable city… a magnet for emerging musicians and
artists, with eight indie theaters including the renovated Music Hall, half a
dozen galleries, film fests, a slow-food movement, and live music seven nights a
week'.  We have all that and much more – those of us who live here in Portsmouth
just love it.
The top 10 of the 'Top 20 Best Towns' in America:
1. Washington, D.C.
2. Chattanooga, Tenn.
3. Ogden, Utah
4. Portsmouth, N.H.
5. Tacoma, Wash.
6. Ithaca, N.Y.
7. Louisville, Ky.
8. Eureka, Calif.
9. Crested Butte, Colo.
10. Columbia, Mo.
Our fair city has received other recognition honors recently – Portsmouth was named the 'most walkable city' in New Hampshire by Prevention Magazine.  The Portsmouth NH area, Rockingham and Strafford Counties, was also ranked as the second safest matropolitan area according California-based Farmer's Insurance Companies.  Money Magazine had repeatedly named Portsmouth NH as 'one of the top best places to live in America' as well.

Portsmouth NH really is a wonderful place to call HOME!!
Are you thinking about making Portsmouth New Hampshire your home?  Call me today at 603-431-1111 x 3839, or send me an email, and let's talk real estate!

Servicing the New Hampshire towns of Portsmouth, Newcastle, Rye, North Hampton, Hampton, Stratham, Exeter, Greenland, Newington, Dover, Durham and surrounding areas, and the Maine towns of Kittery, Kittery Point, Eliot, South Berwick, York, and surrounding areas.