Welcome Home to New Castle NH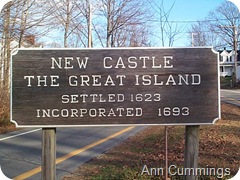 As you can see from the sign that greets you as you drive into Newcastle NH, you're driving onto a quaint and charming island community, dating back to the early 1600's.  There are a good number of homes in Newcastle that date back to the 1600's that are still being lived in.
From the narrow winding streets, you'll see some stunning antique homes, gorgeous water views of the Piscataqua River or the back channel, and a slightly modern day view of what life might have been like back then.
New Castle was originally known as "The Great Island", being the largest of several islands in the mouth of the Piscataqua River.  The Piscataqua River is the dividing line between New Hampshire and Maine, and has the third fastest river current in the world.
Newcastle is the smallest town in New Hampshire, covering only .8 square miles, which is roughly 512 acres or so, and the only town in NH located entirely on islands.  Surrounded by water, New Castle is connected to the 'mainland' via the causeway to Portsmouth and a drawbridge to Rye, both taking you over water and offering up even more delightful views of our great Seacoast here in New Hampshire.

The current population of New Castle NH is 1,100 residents, giving it a population density of 1,376 people per square mile.  The island residents love seaside living, and get to enjoy a wonderful ocean side park called owned by the town, "Great Island Common".
Great Island Common is a 31 acre ocean side park, open to local residents for no charge.  Non-residents, during the summer season have access for a small charge.  What a great place for family gatherings, picnics, swimming, and more.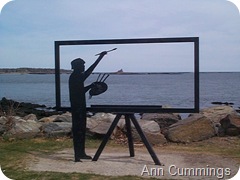 New Castle Beach is right next to The Common, making it a perfectly relaxing place to spend the day with friends and family.  Because it's tucked away like it is, very few of the summer tourists that descend on the area find their way to this quiet relaxing spot of seaside serenity.
New Castle residents have their own elementary school, Maude H. Trefethen Elementary School, for the town's children to attend.  They move on to Portsmouth for middle school and high school.  Children from kindergarten through 6th grade in New Castle attend this school.
The stunningly renovated Wentworth-by-the-Sea Hotel is located on New Castle.  This hotel is on the National Register for Historic Places, deservedly so.  The "Hotel Wentworth", as it was originally named, was built atop a hill in 1874, and has fabulous views of the Little Harbor and the Atlantic Ocean.  The 1905 Treaty of Portsmouth, which ended the Russo-Japanese War, was negotiated here by President Theodore Roosevelt.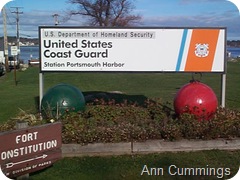 A quaint quiet fishing village for most its existence, New Castle has played an important role in our country's history.  Home to an actively operating Coast Guard Station, Newcastle is home to the historic Fort Constitution site and to the historic Fort Stark site.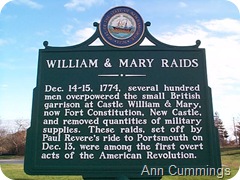 Fort Constitution overlooks the Atlantic Ocean and the Piscataqua River, and was originally named Fort William and Mary.  This fort played a great role in the Revolutionary War.   Fort Stark was one of seven forts built to protect the Portsmouth Harbor.
Originally these forts were built to protect the colonists, but as the area's importance in the ship-building industry grew and as the Portsmouth Naval Shipyard grew, the importance of these forts grew as well, and they all underwent major fortifications.
If you love history, be sure to check out the links to these forts, as there's some great information in there not only about these forts, but others in the area.  The forts in the NH Seacoast area played major roles for our country.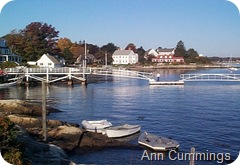 New Castle New Hampshire is such a charming seaside town.  If you're looking for island living and you want to be close to everything, you just might want to consider making New Castle NH your next home.
Newcastle NH may just be the perfect little community for you!  Beautiful towns in the Seacoast area of New Hampshire make finding your next dream home here easy – if you're ready to start your search, I'm ready to help you as your New Hampshire REALTOR!
Come for a visit and you'll soon find you'll want to make this area YOUR HOME – you can then be AT HOME IN NEW CASTLE NEW HAMPSHIRE!!
Once you're here, this area just makes you fall in love with it, and this just helps to make my job as your New Castle NH REALTOR that much more enjoyable to ensure you have as smooth a move as possible!
It's no wonder so many people love living here in this area of NH and making it their HOME!  If you're interested in learning more about making New Castle NH home – I'm ready to help you do just that!
Give me a call or send me an email, and let's get started!!
Servicing the New Hampshire towns of Portsmouth, Newcastle,
Rye, North Hampton, Hampton, Stratham, Exeter, Greenland, Newington,
Dover, Durham and surrounding areas, and the Maine towns of Kittery,
Kittery Point, Eliot, South Berwick, York, and surrounding areas.
Send me an email or give me a call at 1-888-349-5678 ext 3839.