Hampton Beach New Hampshire – Seafood Festival!!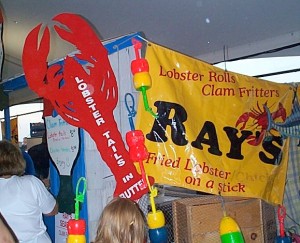 Living in New Hampshire, and New England in general, affords
those of us fortunate enough to call this part of the country home countless places to indulge in some of the finest seafood in the world.
And once a year, you get to meander from food booth to food booth dining on every kind of local seafood all in one place!  How cool is that?!?!?!?
Hampton Beach NH has a yearly Seafood Festival, and it's a opportunity to fill ourselves full of all kinds of fabulous food from over 50 local area restaurants.  Talk about yummy – every single morsel I indulged in was absolutely scrumptious!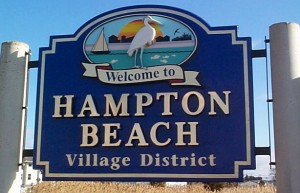 I must admit, in all the years I've lived here in Portsmouth NH, I have never been down to the Hampton Beach Seafood Festival until this year.  And now I know what I've been missing all these years!
This is the 19th Annual Seafood Festival, and it just keeps getting
better and better from what I can heaing.  It's so good and such a great family event that it has been named "One of the Top 100 Events in America" for a number of years.  And now that I've been myself, I can see why the festival continues to receive that recognition!
I went on opening day with 3 good friends, and we had a great time trying as
much seafood as we could.  Some of what we sampled, and loved, were lobster
rolls, fried clams, sauteed lobster tails on a stick, grilled shrimp on a stick,
grilled swordfish on a stick, fried onion rings, coconut shrimp, steamed lobster
and corn-on-the-cob, chowder, ice cream, and some beverages of course.   The
really great thing about this festival is that you can dine on all this great
seafood at less than half the price you'd have to pay if you ate in the
restaurants that have the food booths.  It doesn't get any better than that,
that's for sure!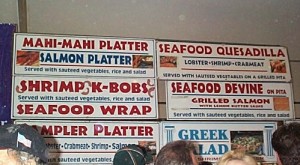 In addition to the yummiest seafood you can imagine, there's also a variety
of bands playing throughout the weekend, arts and crafts booths, and fireworks,
as well as great sidewalk sales in front of all the shops along the Hampton
Beach Boardwalk area.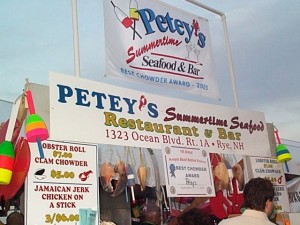 Not a seafood lover?  Not to worry, you can also find chicken, hot dogs, chinese food, ribs, and other food not from the sea.  That all looked delicious as well.
Be sure to check out the fun video on the Hampton Beach Seafood Festival.

It was great fun and I am definitely going to make sure I go next year!
For those of us who live here in the NH Seacoast area, we get all kinds of great fun events like this to take part in all
year long.  Just one of the many perks and benefits of calling this great area
HOME!!
Have you been dreaming of living by the ocean?  Hampton Beach NH has
been named one of the top 3 cleanest beaches in America.  Watch this video by
MSNBC —>  America's Beaches – Hampton Beach awarded FIVE stars for being
the cleanest in the country!
Are you thinking about buying a home or condo in the Seacoast New
Hampshire Maine area?  Call me today at 603-431-1111 x 3839, or  send
me an email, and let's talk real estate!  I'd love to help you
achieve your dream of living along the coast…..

Ann Cummings, New Hampshire REALTOR
RE/MAX Coast to Coast
Portsmouth
NH
ann@anncummings.com
888-349-5678 x 3839
Servicing theCoastal Areas of NH & Southern Maine