If you live in or around Portsmouth NH, you know we always have lots of things going on that are centered around all the water we're so lucky to have all around us!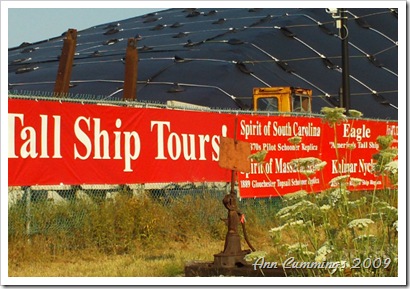 Another fabulous event going on this week is our Portsmouth NH Tall Ships Festival, which is brought here to us by our Piscataqua Maritime Commission. 
We've been fortunate to have had Tall Ships visit us for a number of years now, and visitors and residents alike just love our summer Tall Ships Festival.  This is our 10th annual festival.
This year, we've got 4 ships coming in: the US Coast Guard Eagle, the Kalmar Nyckel, the Spirit of Massachusetts, and the Spirit of Carolina. These ships have begun arriving in Portsmouth Harbor.  The Spirit of Massachusetts is already in port, having arrived on Sunday.  The others will be arriving on the 5th and 6th.  During the week, these ships will be sailing up and down the river – great picture-taking opportunities.
The Tall Ships Boat Parade will be held the morning of August 7th, starting at the mouth of Portsmouth Harbor, going upriver to the docks in downtown Portsmouth.  Once the ships are docked, the official festivities will begin – tours, entertainment, day sails, and more.
This is a wonderful event to take part in – plan a day here in Portsmouth NH and see these beautiful ships!  I watched the boat parade last time, and got to see them at the docks.  They are beautiful ships for sure!
If you're here and make Portsmouth NH home, or if you're in the area or are close enough to take a day trip here, come see these magnificent Tall Ships – well worth spending a day here to see them and enjoy all that downtown Portsmouth has to offer.
Would you like information on the Portsmouth New Hampshire real estate market?  Do you have questions about the buying or selling process?  Give me a call at 1-888-349-5678 x 3839 or send me an email and let's talk real estate!
Servicing the New Hampshire towns of Portsmouth, Newcastle, Rye, North Hampton, Hampton, Stratham, Exeter, Greenland, Newington, Dover, Durham and surrounding areas, and the Maine towns of Kittery, Kittery Point, Eliot, South Berwick, York, and surrounding areas.