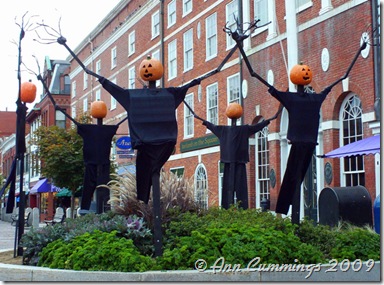 If you make your home in Portsmouth NH, or have been visiting and wishing you had a Portsmouth New Hampshire home, you've most likely seen all the endearing scarecrows that have popped up all around the downtown area.
Some just kinda sneak up on you, and others are right out there and easily spotted.
These Scarecrows of the Port are the brainchild of volunteers from the Greater Portsmouth Chamber of Commerce, and various businesses around town added some scarecrows of their own this year.  "The Scarecrows of the Port began last year when the submarine USS New Hampshire was commissioned.  It was suggested that the scarecrows would be a good draw to the city and give the submarine event another perspective of Portsmouth.", quoted from The Portsmouth Herald.
Take a drive around the downtown Portsmouth area and see how many of these fun scarecrows you can spot!  Every time I drive through town, I see another 1 or 2 that I hadn't seen before.  And to make sure you're not missing any, make sure to check out the video and map available at the Scarecrows of the Port website.
Don't wait too long to see these scary but lovable Portsmouth NH Scarecrows – they'll only hanging out around town until November 1st……  if you miss them, you'll have to wait until next fall to see them again….
Would you like information on the New Hampshire or Maine real estate market?  Do you have questions about the buying or selling process? Give me a call at 1-888-349-5678 x 3839 or send me an email and let's talk Portsmouth NH real estate!
Servicing the New Hampshire towns of Portsmouth, Newcastle, Rye, North Hampton, Hampton, Stratham, Exeter, Greenland, Newington, Dover, Durham and surrounding areas, and the Maine towns of Kittery, Kittery Point, Eliot, South Berwick, York, and surrounding areas.