Are you thinking about making the Portsmouth NH area your home?
It is a great area to call home, that's for sure!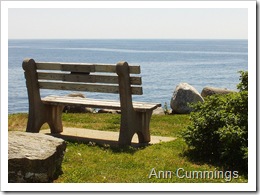 So, while you're here checking out the Seacoast area, you might want to take a break and check out a few of the really special places here for fun and relaxation.  And of course, you have to eat, so I've included a few restaurants along the way as well!
The Portsmouth NH Southern Maine Seacoast area is simply put – BEAUTIFUL!  I am a tad bit partial, but I have every confidence you'll agree after you've been here for even just a day!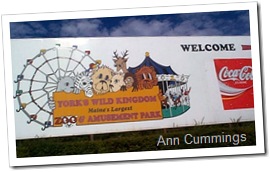 If you're going to be up in York Maine, I've heard the York Wild Kingdom is a great place to go with kids.  I've never been so I don't have first-hand knowledge, but I've heard plenty of others say it's an enjoyable time.  While you're in that area, go to the Nubble Lighthouse Park, in York.  It's one of the most photographed lighthouses in the world.  They have a nice park, a little restaurant right there and a cute gift shop.  Here's a little Nubble Lighthouse picture show I put together on this park.
A little bit north of there is Ogunquit, with the Perkins Cove area.  That's a neat little peninsula with quaint little shops and great seafood restaurants.  Barnacle Billy's is good, tourists and locals alike go there.  I think it's a bit pricey but it's in that great area and on the water with views that make you want to stay all afternoon.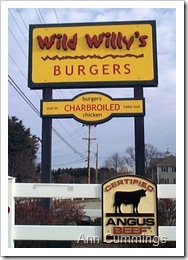 As you come south towards Portsmouth, there are all the outlets on Route 1 in Kittery Maine.  There's a great seafood restaurant there, across from the Kittery Trading Post – Weathervane Seafood.  Awesome seafood, they have their own boats and it's very reasonably priced.  Locals eat there all year-long.  Very casual and great for families.  Bob's Clam Hut is across the street, I've never eaten there but have plenty of friends who frequent it.  Wild Willy's is a fun casual small restaurant for awesome burgers and hand-cut fries – one of my favorite places to go for burgers!

Portsmouth NH – a wonderful walking downtown area with lots of great little local shops, galleries, and restaurants all over the place.  We have a beautiful riverside park, Prescott Park, with gardens, plays, concerts, etc. that go on all summer long.  It's a great park to pick up lunch somewhere and then go and enjoy a picnic there.  Across from Prescott Park is Strawbery Banke – an outdoor living museum.  This is a great place to go if you like history.  It spans over 350 years of area history, showing how families lived back then, gardens, shop, grounds, etc.  It's quite interesting.
Restaurants in Portsmouth – there are so many, it would be hard to choose – for really good casual food (burgers, salads, etc.) the Rusty Hammer is good, right downtown. The Oar House and the Dolphin Striker are both famous restaurants – they're a little pricey but the food good.  We have several restaurants right on the water downtown – The Old Ferry Landing is a fun place to go, they have seafood and sandwiches and you can eat out on their deck and watch the river traffic go by.  We have restaurants galore just in the downtown area alone – you'd be hard-pressed not to find something you'll enjoy, no matter which ones you pick out.  The Portsmouth Gas Light and the Portsmouth Brewery are both fun places to stop and enjoy a bite to eat.
A drive through New Castle, just off Portsmouth, is a nice drive.  New Castle is an island town, dating back to the 1600's, and you can see that by the antique homes and winding streets that you'll go on as you circle the island.  The Wentworth-by-the-Sea hotel has a nice lunch, and is a beautiful place to stop.  They also have a restaurant right across the street, Latitudes, that has pretty much the same food, and there you get great harbor views as you eat.
A nice little tucked-away Portsmouth restaurant at the end of route through New Castle is BG's Boathouse – locally owned and fresh seafood, with a deck that overlooks a river, a nice and relaxing place to eat and take in the views.  Just before you get to BG's, on the left, is The Ice House – great seafood, burgers, sandwiches, and of course delicious ice cream, too.
The Bratskellar on Route 1 in Portsmouth is a great restaurant for pizza and sandwiches, very casual, and great atmosphere for just relaxing a bit.  Down in North Hampton on Route 1 is Abercrombie and Finch – another very good casual restaurant, lunch or dinner.  And right next door to Abercrombie's is Wings Your Way – if you like chicken, they have a ton of different wings and sandwiches, along with burgers, salads, etc.  Again, another casual place to go.
We've got a lot of chain restaurants, so if you like those, you'll find plenty of other places to eat in addition to the local places I mentioned above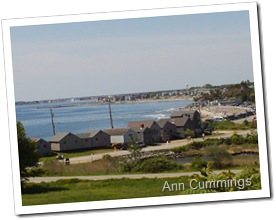 I love a drive along the coast, all 17 miles of it!
You'll see rocky coastline and sandy beaches mixed in.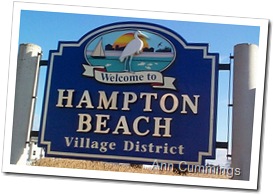 Hampton Beach is a fun place to go, if you like summer beaches and people-watching.  They have the regular beach-type shops and restaurants there that you'd expect.  All summer long, you can find all kinds of activities going on in Hampton Beach, and be sure to check out the famous Hampton Beach Casino to see what concerts are going on there.  Enjoy the Sand Sculpture Contests, Seafood Festivals and more!
This is just the tip of the iceberg for all the activities and restaurants in the area!  I hope you'll enjoy your visit, and that you'll come to think of the Portsmouth NH area as your home if you're relocating here.  I love it here, and I'm sure you will, too!
Servicing the New Hampshire towns of Portsmouth, Newcastle, Rye, North Hampton, Hampton, Stratham, Exeter, Greenland, Newington, Dover, Durham and surrounding areas, and the Maine towns of Kittery, Kittery Point, Eliot, South Berwick, York, and surrounding areas.