Seacoast New Hampshire Coastal Scenery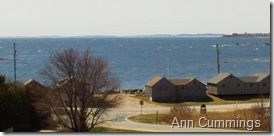 If you follow my blog and read my posts, you know I LOVE to show off this gorgeous Portsmouth New Hampshire area that I'm fortunate enough to call HOME!
And show it off, I do!
I thought I'd use this post to show off some of our beautiful New Hampshire coastline – rocky and sandy, and just as most would picture a New England coastline to be.
We have the smallest coastline in America – so small that most people not from this area and/or New England don't even realize New Hampshire has a coastline.  We do, and it's all of 17-18 miles long, from the Massachusetts border to the Maine border.  In almost 2 blinks of an eye, you can travel 3 states right here, and if you make that drive along the Atlantic Ocean route, you'll see some spectacular scenery.  I like to call this area "God's Country" – it really is.  And yes, I know I'm a teeny tiny bit partial, but if you could see what I see, I think you'd agree with me and the rest of us who get to live right here in the NH Seacoast.
I hope you enjoy the coastal scenery I've posted here!
And if you're interested in making this beautiful area your home, I would just love to show you how easy it is to fall in love with the Portsmouth NH area and find a new home or condo here in the Seacoast NH areas.
Servicing the New Hampshire towns of Portsmouth, Newcastle,
Rye, North Hampton, Hampton, Stratham, Exeter, Greenland, Newington,
Dover, Durham and surrounding areas, and the Maine towns of Kittery,
Kittery Point, Eliot, South Berwick, York, and surrounding areas.