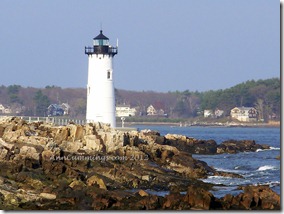 Newcastle NH is a quaint little village, an island actually, that is full of antique homes and has a wonderful feel to it.   New Castle has its own elementary school, and the little town center area is made up of the post office, the fire department, a church and now there's also a nice little mom and pop store in the town center as well.  New Castle is also home to a coast guard station, Fort Constitution.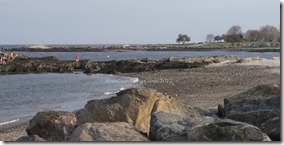 Great Island Common is a wonderful seaside park right on the water, at the mouth of Portsmouth Harbor.  It's a great spot for picnics, gatherings, quiet time, and just watching the river and ocean traffic.  We love the Common and love catching moonrises, especially full moons over the water, and we can spend plenty of time there watching all the boats and tankers come into port.
A great destination hotel, one of the 'grand dame' type old hotels, Wentworth-by-the-Sea, is located on Newcastle.  What a beauty this hotel is, and what a location too!  Right across the street from the hotel is Wentworth Marina, where you'll find boats of all varieties docked there, especially in the summer time.
Two causeways connect Newcastle to the mainland, which bring you to Portsmouth on one end and to part of Rye across the other causeway.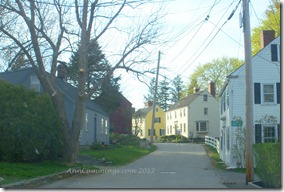 With New Castle being a small island community, there aren't as many homes or condos for sale at any given time as you'll find in surrounding towns.  Currently we have 14 homes for sale in Newcastle, and those are priced from $419,900 to $2,290,000.   This link – Homes for sale New Castle NH – will open to show you information about each home for sale.  You'll see maps that show the location of each home as well as detailed property information on each home currently for sale in Newcastle NH.
If you've been thinking about buying a home in New Castle or the general Seacoast areas of NH and southern Maine, this just may be the right time for you.   "Should I Buy Now? Yes!  And Here's Why" will show you why the numbers seem to be indicating this very thing.
If you'd like to make your home here in the Seacoast areas of NH or southern Maine, let us know – we'd love to show you the area and help you find that special home just right for your needs.  We love living here and we know you'll love this area too!
Call us or email us – we're here to help you with your real estate needs – ann@anncummings.com and jim@jimlee.com.  1—888-349-5678 ext. 3839 for Ann and ext. 3801 for Jim.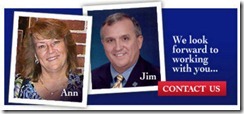 Ann Cummings and Jim Lee, REALTORS
RE/MAX Coast to Coast
150 Mirona Road
Portsmouth NH  03801
603-431-1111 x 3839 and x 3801
Follow us on Twitter
Like us on Facebook
Search NH and Maine coastal real estate – Search NH and Maine real estate and feel free to set up real estate searches for your next home!