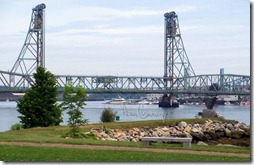 Portsmouth New Hampshire's Memorial Bridge has connected the 2 communities of Portsmouth NH and Kittery Maine since 1923.  And now, for a fairly short time, this bridge won't be connecting these 2 communities in the physical way that it has all that time.  But it has connected and brought together communities within each of these 2 towns in really interesting ways that I'd bet most of us never thought about before the bridge dismantling began.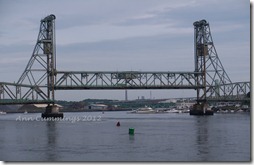 All the years I've lived here, this bridge has been mostly a means by which to get across the river.  Many days, I'd go back and forth across it several times a day, depending on appointments I had.  From time to time, I'd be stuck on it while it was in the up position for a ship or tanker to go through which often gave me time to sit and just soak in the view for a few minutes.   And I suspect that's what the bridge was for most others who traversed it daily as well – a means to get where we're going.
Portsmouth NH Community Bridge-Watchers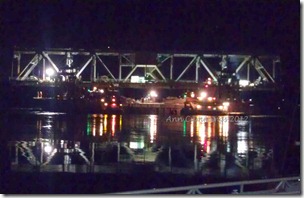 Jim and I became avid bridge watchers as soon as they began preparing the sections for removal, and we joined the ranks of other area residents who were doing the same.  We'd go down and watch the workers several times a day, and as they got closer to being able to remove the middle section, we'd go down and watch for hours at time on the days/nights the middle section was to be removed.  This picture is of the middle section being floated upriver to be tied up to the dock so it could be readied for shipping down to the Boston area.  The NH DOT Memorial Bridge Project site does a great job keeping the community updated on changes and progress.
During those visits, we would end up meeting all kinds of people down there doing the same thing we were.  The conversations with various people were really interesting – many of them sharing amazing memories with us.  We met people who told us of their childhood memories of Sunday drives with their parents and crossing the bridge, other memories were of fishing with grandparents, boat trips, family members who'd worked on the bridge.  We met a man who was in his late 80's who shared some special memories of dating his girlfriend and how he proposed to her on the bridge.  Some many wonderful people from all walks of life and some very special memories that have been shared with us…
We have enjoyed, and continue to enjoy, all the wonderful people we've met through a common interest in bridge-watching.  Several times this past week I went down to see how the tearing down of the approach road to the bridge in downtown Portsmouth is being torn down.  I took a quick lunch with me twice and sat on one of the benches to watch for awhile.  Each time 1 or 2 people approached me and chatted for a bit, one man sat down beside me to eat his lunch.  Over that quick lunch I learned of some of his memories too – the memories he shared with me had to do with long ago fishing trips that his dad had taken him on, fishing under the bridge.  As he finished his story, I noticed tears in his eyes, which put tears in mine.   I'd venture to say, many a set of eyes have moistened up as cherished times connected to this wonderful bridge have been shared.  Who knew this kind of bonding and sharing would go on because of the dismantling of a bridge??
The crews working on the bridge are in the process of taking down the Kittery Maine side, pictured in the middle picture above.  Our new bridge is slated to be up, operational and open for traffic in July 2013.  And I know when the bridge begins to go back up, many of those same people we've met will be there watching again, just as we will be too.  Bridge-watchers, what wonderfully interesting bonds this has created!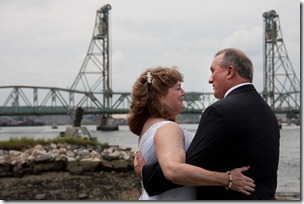 The Memorial Bridge was a backdrop to our wedding on June 26, 2011 – it appears in the background of many of our wedding pictures.
It's a little special to us as well…..  

If you'd like to make your home here in the Seacoast areas of NH or southern Maine, let us know – we'd love to show you the area and help you find that special home just right for your needs.  We love living here and calling Portsmouth home and we know you'll love this area too!
Call us or email us – we're here to help you with your real estate needs – ann@anncummings.com and jim@jimlee.com  1-888-349-5678 ext 3839 for Ann and ext 3801 for Jim.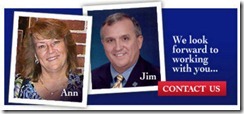 Ann Cummings and Jim Lee, REALTORS
RE/MAX Coast to Coast
150 Mirona Road
Portsmouth NH  03801
603-431-1111 x 3839 and x 3801
Follow us on Twitter
Like us on Facebook
Search NH and Maine coastal real estate – Search NH and Maine real estate and feel free to set up real estate searches for your next home!