One year ago today, my world and my life as I had known them suddenly and inexplicably changed forever.  And it seemed as if it happened truly in the blink of an eye.
It was a warm sunny summer Friday afternoon.  I had just come home from work, and in what seemed like less than 10 minutes later, an ambulance was in my driveway.  Every time I see an ambulance, I relive those moments and tears fill my eyes….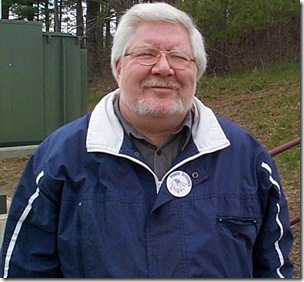 The man I love, DeWitt "Bear" Perkins, – my best friend, my love, my business partner, my soul mate, my world – had collapsed in the yard.  It turned out he had suffered a brain aneurysm, which we didn't know at the time.  It was causing him terrible pain and was making him nauseous.  When I saw him on the ground, I knew something bad was going on.  I asked him, several times, if he was okay.  And he kept telling me, "I have a bad headache and I'm nauseous but I love you".
The "but I love you" was a running little inside thing between the two of us.  I heard him tell me that 3 times – "but I love you".  And to me, that showed he knew I was right there with him, right beside him, loving him as much as he loved me.
To be in that kind of pain and to say those words to me…… my heart aches every time I think about that.
Oh how I've hung on to those special words every single day since June 13, 2008.

The ambulance took him to the hospital, and he lapsed into a coma en route, and never came out of it.  The doctors declared him brain-dead early afternoon on June 14, 2008, which we didn't know until hours later.  Because we donated his organs and his body, he was still alive and with us until about noon time on Sunday June 15th.  To me, despite what the paperwork says, June 15th is the day etched in my brain.  I could still hold his hand, touch him, feel his warmth, talk to him, caress his face and hair, and watch him breathe……until they made us leave that day.  He was only 57 years old, way too young….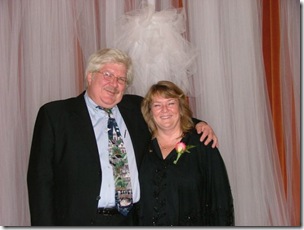 Bear was my world, he brought so much to my life over the many years we were together.  Seventeen years of a lot of living and sharing and laughing and crying and so much more…..  We met because of real estate.  He and I were both REALTORS at the time we met.  He worked with friends of mine, however we never really met until he showed a listing of mine in Exeter, which he sold to his buyers.  And we got to know each during that sale, and the rest is history, all 17 years of it.
Bear was a really special man, a gentle giant of a guy.  He was a man of presence, and he was a magnet for little kids.  He loved them, and they loved him.  No matter where we went, some little one would always catch his eye, and vice versa.  And the next thing I'd know, he'd be exchanging smiles and giggles with whatever little child was drawn to him.  And that happened frequently.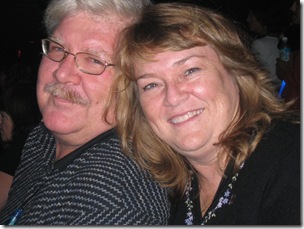 His deep blues eye, his ever-ready deep laugh, his shiny silvery hair with sunglasses on frequently top of his head – I could spot him a mile away.  Everywhere we went, whether it was here in town or somewhere across the country, we ran into people he knew.  He was quite involved in the REALTOR organization, and in the MLS as well, so he got to know a lot of people that way.
We could be in an airport in the middle of the country, and invariably, someone would call out his name to say hi.  Sitting in Fenway Park, we'd run into people who knew him.  His daughter and son used to tease him about not being able to go anywhere with him where no one knew him.
I miss him so much, my heart literally hurts at times.
It seems impossible to me that a year, a FULL year, has gone by without him here.  I find myself still expecting to see him in the yard, where he loved being.  I sometimes get mad that he's not here – we had so much yet to do and see and explore together.  Sometimes, when we'd have those deep in-the-gut kind of talks, he'd always tell me that he'd never leave me, ever.  But he did……. and I know he didn't leave on purpose.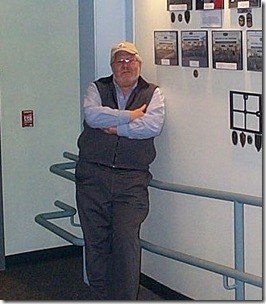 This has been the most difficult year of my life.  I've had to learn to go minute-by-minute, hour-by-hour, day-by-day, week-by-week.  The time has passed, I can tell that by the calendar.  I don't know how I made it to this point, and I surely would not have without the wonderful family I'm blessed to have and the really special friends I have.
When I lost my mom several years ago, Bear was the only person who could reach me and keep me from sinking deeper than I did.  This time, he wasn't here to do that – I had to do it on my own without him, and I knew from the very start I had to fight with every fiber in my being to not let that happen because I'm not sure I could have recovered if that had happened this time around.  My family and my friends have been my salvation, along with the grief counseling I took part in.
And I am here today……..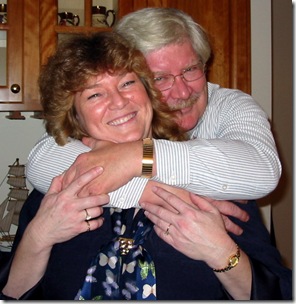 I've learned a lot during this year, much of it against my will, but learn many things I did.  I've learned I'm a bit stronger than I ever had any inkling I was.  I've learned how to let others help me – that one took awhile because I thought I was doing ok, and I clearly was not.  I've learned to reach out to others, I've learned what to do and what not to do when I know someone else going through a loss like this.
I've learned there are so many people in this world who care, so many who are really good people.  I've learned that Bear and I touched more lives than we could ever have realized.  I've learned the power of social networks, and what the friends who live in my computer have come to mean to me.
And I am here today – to celebrate and honor forever the life of the man who meant so much to me, DeWitt 'Bear' Perkins, and to give thanks to and for so many who meant and mean so much to us and to me……….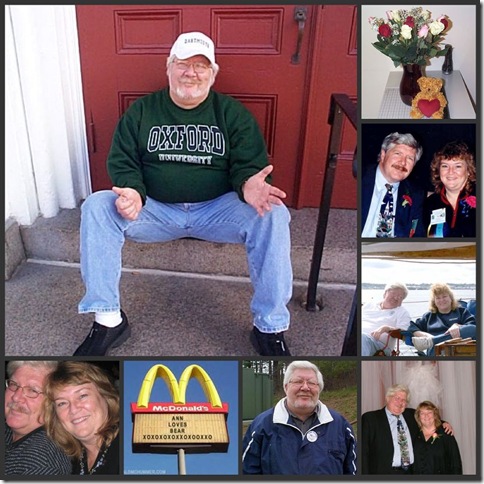 I miss you my Honey Bear far more than words can say………
"Sweet Dreams, Sleep Tight, I Love You, Good Night…."