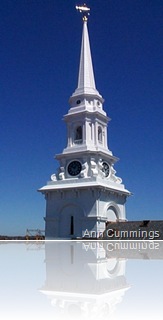 If you live here and make your home in Portsmouth New Hampshire, then you're likely already aware of the beautiful churches all around town.
Portsmouth is an area rich in history, and our churches play important roles in that history as well.  Our oldest town churches are right in the heart of downtown, Market Square area.  One of our stately historic downtown churches was part of Paul Revere's Midnight Ride to warn of the British coming.
North Church underwent a complete rebuilding of its magnificent steeple that can be seen from many areas of town.  North Church sits proudly in the very heart of our downtown Market Square, and has been the subject of many paintings and photographs of Portsmouth.
Enjoy this picture tour of some of the wonderful churches and houses of worship that await you here when you make Portsmouth NH your home!
Would you like information on the New Hampshire or Maine real estate market?  Do you have questions about the buying or selling process? Give me a call at 1-888-349-5678 x 3839 or send me an email and let's talk Portsmouth NH real estate!
Other posts with Portsmouth area tours that might interest you:
The Many Styles and Colors of Portsmouth NH Homes
Portsmouth NH Area Tours  
Portsmouth NH Living – Let It Snow    
Portsmouth NH – Fall's Spectacular Show
Servicing the New Hampshire towns of Portsmouth, Newcastle, Rye, North Hampton, Hampton, Stratham, Exeter, Greenland, Newington, Dover, Durham and surrounding areas, and the Maine towns of Kittery, Kittery Point, Eliot, South Berwick, York, and surrounding areas.